The Rock Stars of Our Time
From apps to free improvisation to intricate compositions: We covered quite a lot of ground in the latest of Frankenstein's labs.
Anders Monrad kicked off with a demonstration of, and the story behind, his latest app. He's developed quite a few iPad apps over the past few years, mostly synthesisers of some kind, sometimes incorporating Nancarrow inspired sequencers. This time round, on the basis of a commission from an artists' collective, he set out to develop a movement based iPhone app that didn't require peering into the device's screen. The sounds are shaped through broad gestures and as a result playing this instrument can quickly start to resemble a modern dance performance. The line between instrument and composition tool is also blurred since the resulting sound sculptures can be saved as small pieces.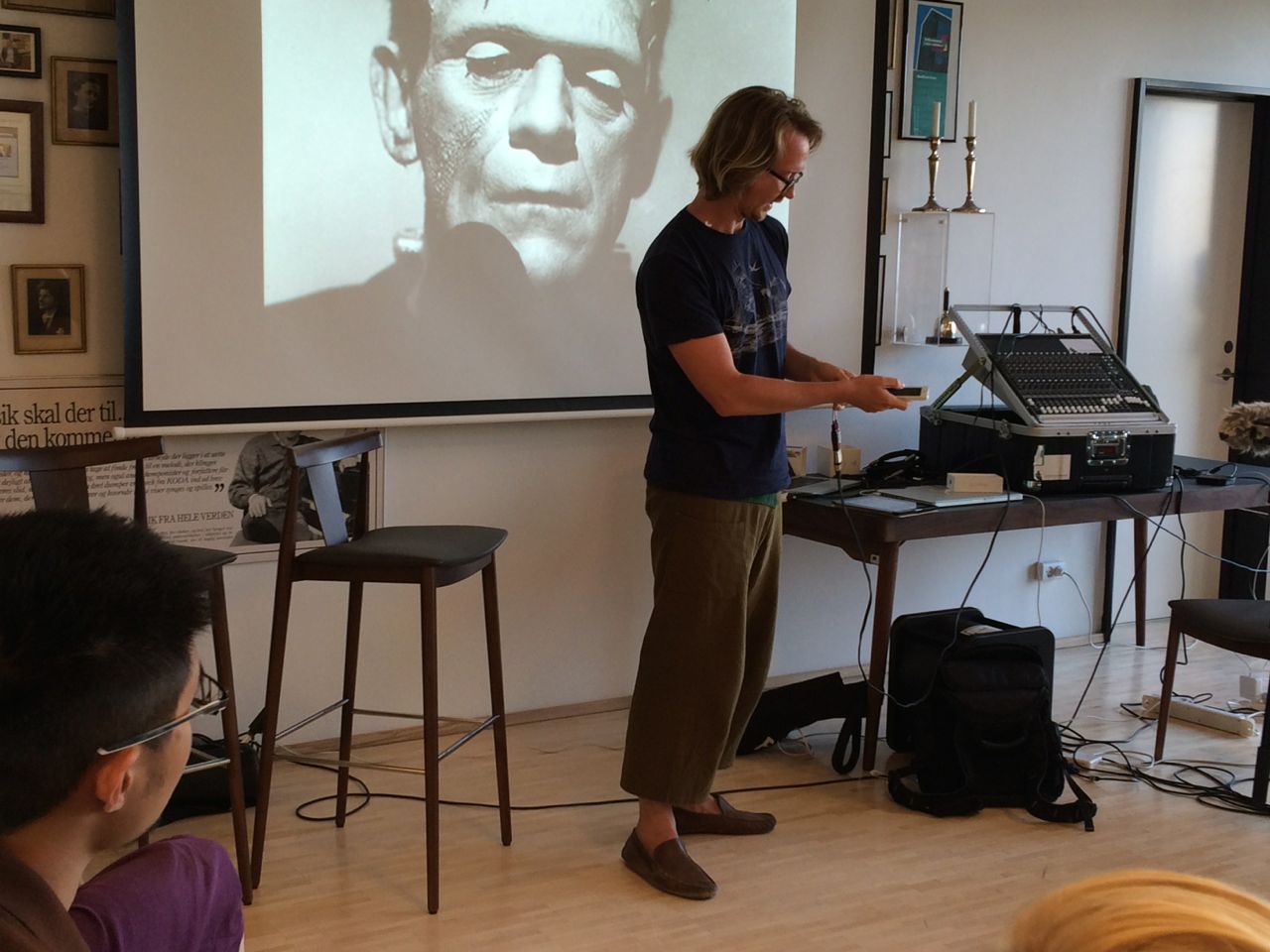 Anders, a conservatory trained composer with a long interest in the visual arts, filled us in on his path to embracing modern technology and in particular the world of apps as one of his main creative outlets. He told the story of how, while studying in London, a lecture by Brian Eno inspired him to re-visit his childhood interest in technology. Eno explained how during the 70s it was playing in a rock band that was the cool thing. Art students spent half a year learning to play instruments and got on with the business of being rock stars. Since the introduction of the iPhone in 2007 that coolness has however shifted – it is app developers that are the rock stars of our time, and we are only just beginning to understand the extent to which this phenomenon has captured the general cultural imagination. Anders was keen to reach a broader audience with his creations and tap into the ubiquity of these new devices.
He talked however about the other side of all that glamour, about the difficult and often lonely (despite help from various game communities) path to collecting and honing the skills required for developing the apps he envisioned. He gave some direct peeks into what went into the creation of the iPhone app, opening up the Xcode hood and demonstrating some of the prototyping done in PD. All in all providing some valuable insights into the often seemingly closed world of apps and showing how just as we once tinkered with taking apart transistor radios, the same was possible with the shiny world of apps. A world much in need of demystification.
After Anders' digital worlds visiting clarinetist Heather Roche (in Denmark on a DIVA residency) & star free jazz saxophonist Lotte Anker took out their instruments and treated us to some unplugged improvisation. Heather and Lotte come from quite different backgrounds but have both invested heavily in exploring the limits of their instruments and pushing the sonic boundaries previously available to them.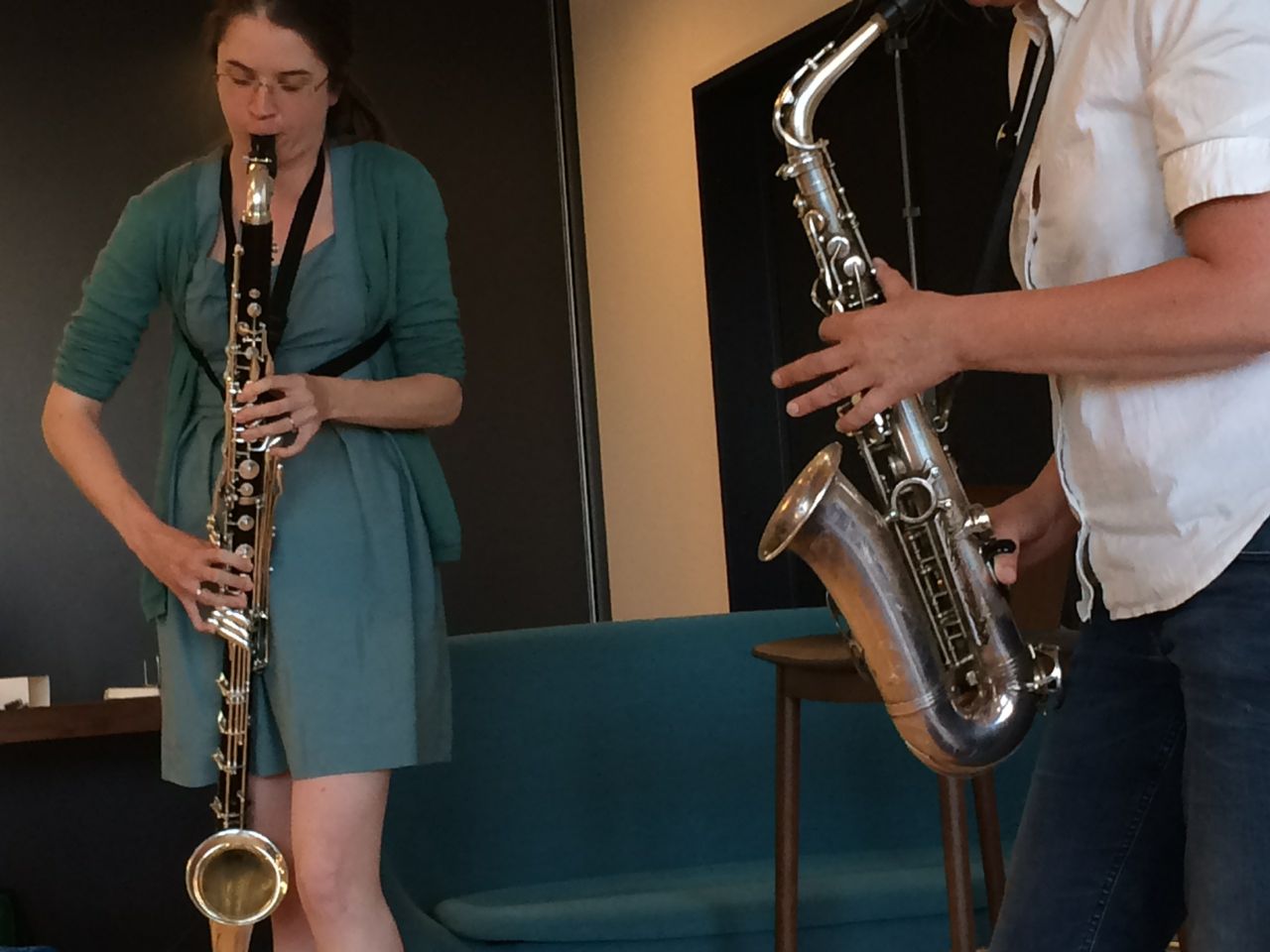 These extended techniques provided a common meeting ground for their different paths and were used as a point of departure for a set of improvisations that explored aspects of texture, register and pacing. After the improvisations Lotte shared a little on her experiences with this art form and how best to jump into it.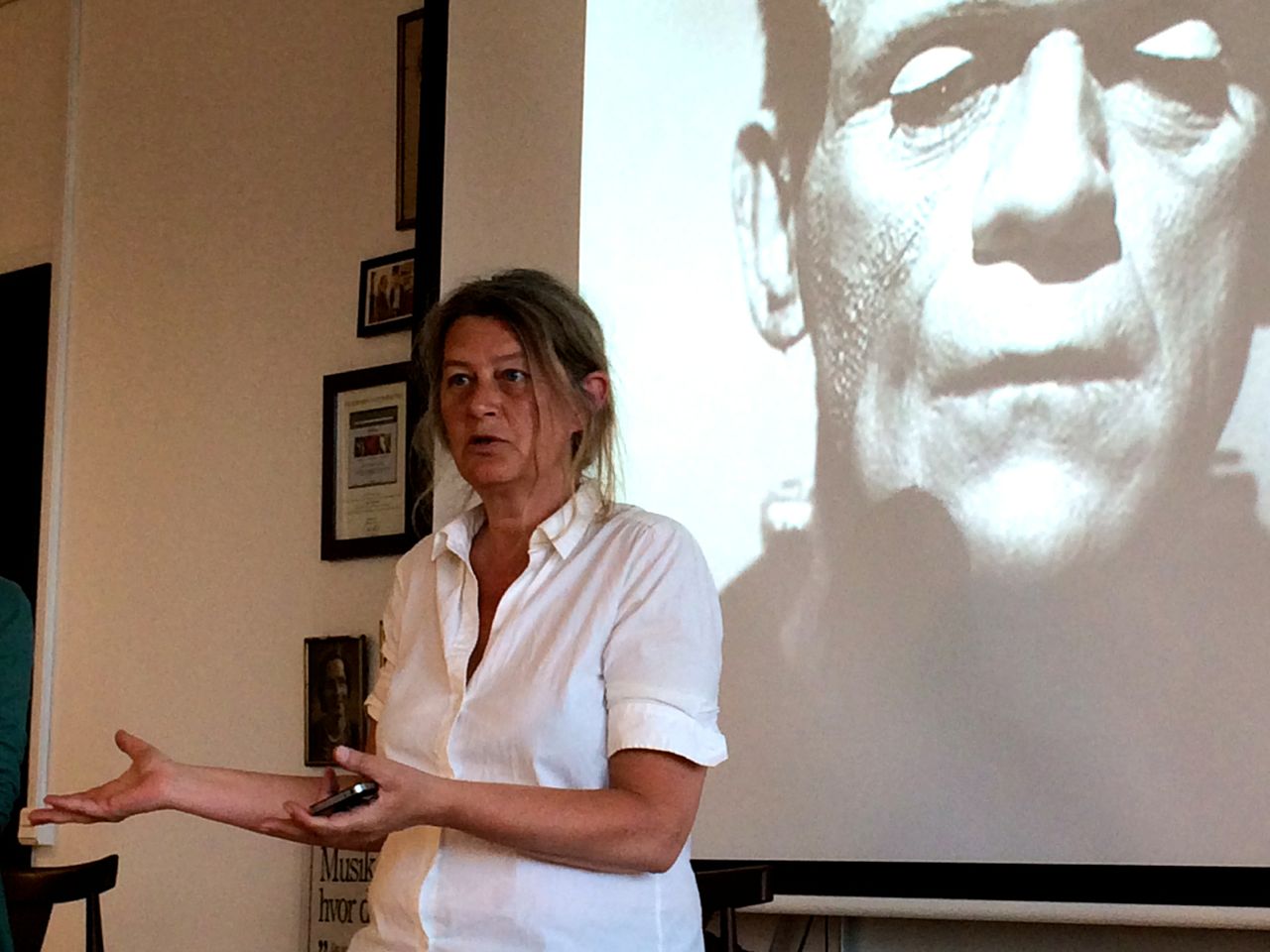 It was then time for some food and beer in the Danish Composers' Society's new canteen-with-a-view before the last session in which Heather Roche started off by treating us to a performance of Enno Poppe's Holz Solo.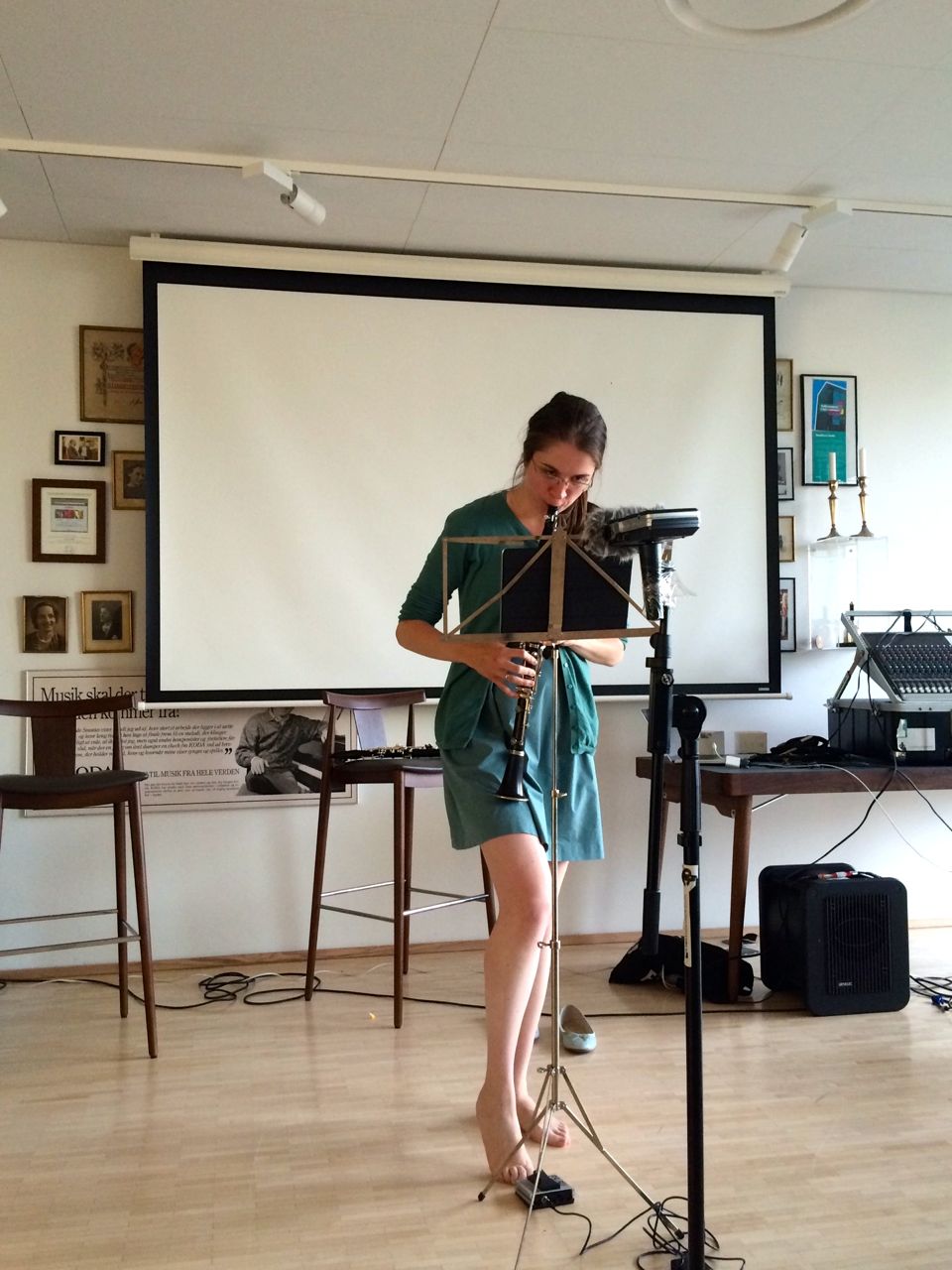 The session that followed was dedicated to unfolding some of the pieces in a new cycle of works that composer Signe Lykke had been working on in close collaboration with Heather. Signe was particularly enthusiastic about some of the extended techniques Heather had introduced her to and this led to discussion about how the new inevitably turns into the familiar, and how to deal with that from a compositional point of view. What to do when the weird no loner is weird?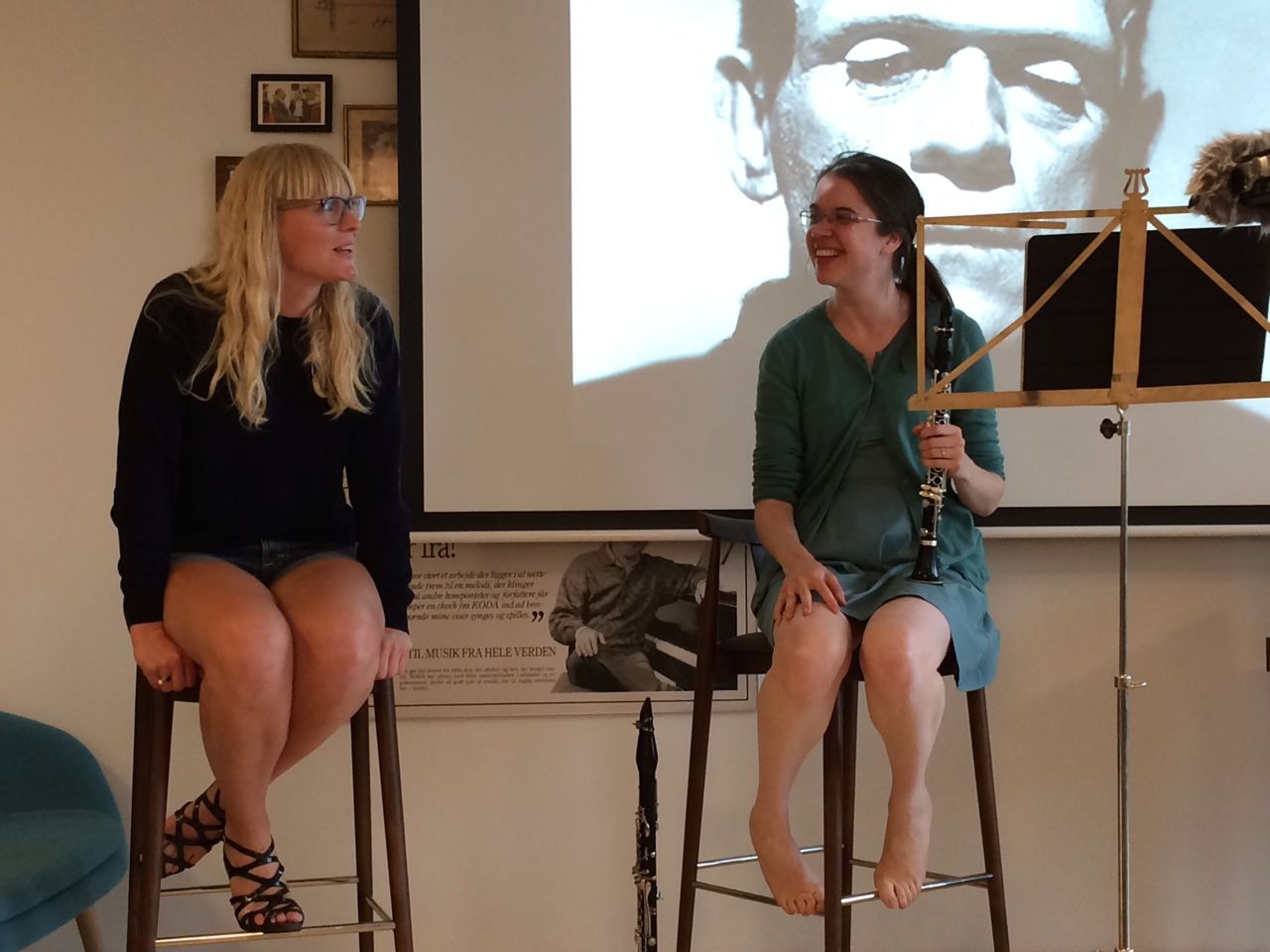 The session was rounded off with a piece from the cycle (only completed the night before) based on the not-so-well-known phenomenon of clarinet dyads: Beautiful soft textures that can be quite haunting. Heather has fortunately documented them quite extensively in a blog post (with sound examples) on her wonderful website. Make sure to check it out.