The Choreography of Sound
An exciting and somewhat unusual lab lined up for Frankenstein's upcoming excursion to Dansehallerne.
Artistic director Efva Lilja and dancer/musician Niels Bjerg will open the evening with some thoughts on the role of music at Dansehallerne and special guest Gerhard Eckel will present a talk on The Choreography of Sound.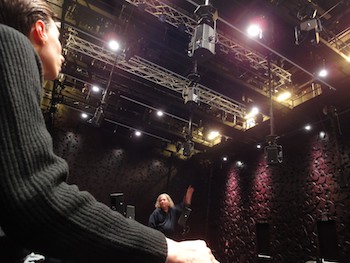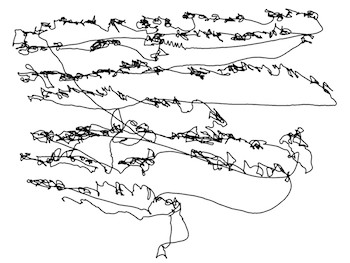 After a short break a panel consisting of Niels Bjerg, Louise Alenius, Pelle Skovmand and Gerhard Eckel will each give a short Pecha Kucha style presentation before opening up for a discussion session with Kim Helweg as moderator.
Niels Bjerg will also present an excerpt from his work Blind, a piece created together with the choreographer Kirstine Khyl Andersen, in which two dancers carrying mobile loudspeakers shape the direction and movement of the music.
Time and Place
The Lab will take place on Monday 25 April at Dansehallerne, 19:00 – 22:00. Entry is free, but reservation (by sending an email to Katrine Dal) is neccessary since there is only place for 50 guests.
The bar will be open for refreshments. We look forward to seeing you there!
Our Facebook Event page can be found here.
Update:
Cafe Elefanten has closed down and therefore the main entrance will not be open. To find Studio 7 go to the side of the building to door no. 14 and up the stairs to the 2nd floor.
The program for the evening will be:
19:00: Efva Lilja, Dansehallerne and Frankenstein's Lab welcome
19:15: Gerhard Eckel presentation and discussion (moderator Kim Helweg)
20:00: Intermission
20:20: Niels Bjerg
20:40: Pelle Skovmand
20:50: Louise Alenius
21:00–21:30: Questions and discussion with Kim Helweg as moderator
---
Gerhard Eckel is a composer and researcher. In his role as professor at the universities of Graz and Stockholm he has carried out the large art-based research project concerning the aspect of space in music – The Choreography of Sound.
Niels Bjerg has as a composer focussed on the field of dance and choreography. Since 2004 he has, together with the choreographer Kirstine Khyl Andersen, led the band/company WEGO. He is also known as the man behind Cirklen, a surround sound ensemble of six guitarists, that surround the public in a form of live installation.